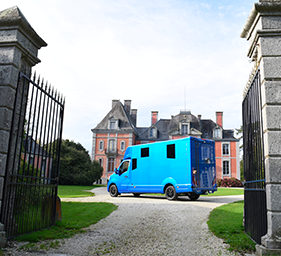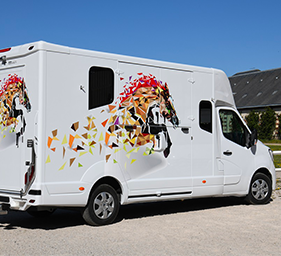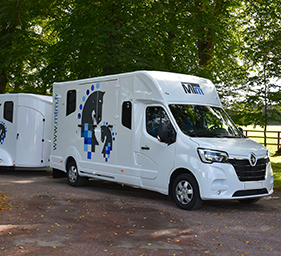 The FILOVAN is designed on a chassis cab RENAULT Master L3H1 featuring the latest motorization: 165 CV bi – turbo 2.3L DCi – Euro 6. The twin-turbo motorization offers a dynamic driving experience which positions the FILOVAN as a leader within commercial vehicles. As part of an environmentally-friendly approach, the EURO 6 standard reduces oxide emissions.
Our vehicles meet European RCE certification to allow free movement and registration of the vehicles across European Union. MTM has a wide network of European retailers.
This vehicle is available with 3 or 5 seats.
Each client is unique and has different needs and we offer various design configuration for your vehicle: saddlery equipment, bodywork options, exteriors design, cab's configuration ... Contact us to creat your perfect vehicle.

The FILOVAN has been specifically designed to allow for a quick, efficient and more durable handling.
Le chargement par un large pont latéral facilite l'embarquement / débarquement des chevaux. Les volets au-dessus du pont, bénéficient d'un système de verrouillage sécurisé et résistant. Les stalles sont munies du système « easy access » (breveté), permettant l'ouverture/fermeture de la porte d'accès chevaux depuis la stalle ou la sellerie.
A footstool is embedded in the bodywork to prevent the risk of snagging during parking. Cab's options (cruise control, speed limiter, Bluetooth kit…) improve your driving comfort.
MTM offers a 36 months or 200,000 km body warranty (for normal use of the vehicle). Renault warranty also applies for two years and unlimited mileage.